Sadie is super excited today because her driver's license just arrived in the mail! She immediately ran and grabbed my car keys, ready to put her new license to use. She even got behind the wheel of the car! Unfortunately for Sadie, this new license doesn't really allow her to drive. It's actually a cute new type of dog ID tag from DoggieID.com.

The state license ID tag is a whimsical alternative to the traditional dog tag. It looks just like a miniature license from the state of your choice. Personally I was very tempted to order a Hawaiian license tag for Sadie, because the rainbow design makes Hawaii's licenses the prettiest of the 50 states. But Sadie and I live in New Jersey, so in the end we ordered the New Jersey ID tag. We've already received quite a few compliments during our walks from other dog owners amused by this unique style of ID tag.

The tag itself is small enough to fit comfortably on my little dog, but can be read easily. It feels like laminated plastic, so it should be reasonably durable but won't make the annoying, jangling sounds of metal tags. And it comes with not only the standard key ring to attach to your dog's collar, but with a mini carabiner clip, so you easily move it from one collar to another. Each Doggie ID tag is made in the USA and is backed by a lifetime guarantee.

The state license dog ID tags are available for $18.95 from DoggieID.com. I think they make a pretty unique gift for the dog owner in your life and are even conveniently shipped in a little gift pouch. You can even win one right now using the form below! One winner will be randomly selected one week from today to win one free state license tag from Doggie ID!
a Rafflecopter giveaway
This post is part of the Thoughtless Thursday blog hop hosted by Ruckus the Eskie, Love Is Being Owned By a Husky, and M.K. Clinton.  

This post is also part of the Thursday Barks and Bytes blog hop hosted by 2 Brown Dawgs and Heart Like A Dog.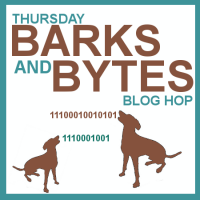 I was not given any monetary compensation for this blog post. I was given a free product to review. All views are my own, unbiased opinions.