Over the weekend I changed the sheets on my bed. It's part of my usual weekend routine, something Sadie has watched me do a zillion times. She usually either ignores the process or gets really nervous because she has some treat buried in the bed that I have to rescue before removing the sheets. But for some reason things went a little differently during this weekend's chore.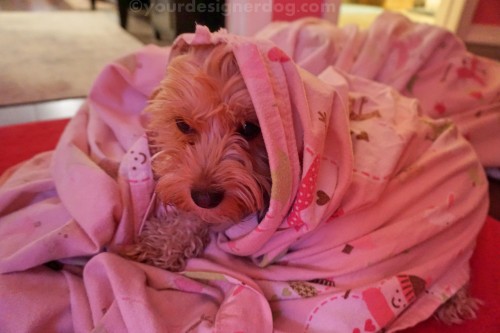 While Sadie sat nearby supervising, I took the old sheets off the bed and tossed them in a pile on the floor. Then I got the clean sheets out of the closet and made up the bed. At this point Sadie showed no interest in anything I was doing. But then I had to go to the basement to get an empty laundry basket from our laundry room. When I came back up the stairs I found Sadie like this:


She had buried herself in the pile of sheets on the floor! Normally Sadie doesn't even bother to sniff the sheets at the end of our chores, but this time she decided to hide herself in them. I pulled the top sheet off of her eyes and took a few pictures, but I didn't want to disturb her too much. She just looked so cute and cozy buried in those flannel sheets! After getting my fill of photos, I left Sadie alone and she fell asleep. She ended up napping in those sheets for over an hour!

This post is part of the Monday Mischief Pet Blog hop hosted by Snoopy's Dog Blog, Alfie's Blog, and My Brown Newfies.