[like-gate ]
Thanks for liking us! Sadie and I really appreciate the love!
[/like-gate]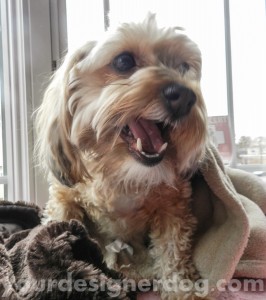 I always find it very amusing to watch where Sadie goes after I give her a treat. Because she never eats the treat immediately, right there in the kitchen. Nope, my Sadie likes to scurry off with her snack to eat it somewhere more comfortable. If she's really hungry, she goes straight to the living room rug to eat. Sometimes she takes her treat to one bedroom, sometimes the other bedroom. Sometimes she eats her treat on the floor, sometimes on a bed, sometimes on the couch. Yesterday Sadie decided her window seat was the perfect place for a snack. The window seat makes the most sense to me, because I prefer to snack in front of the TV, and for dogs, looking out the window is like watching TV.
This post is part of the Tasty Tuesday blog hop brought to you by Sugar the Golden Retriever and Kol's Notes.
[like-gate ]
Thanks for liking us! Sadie and I really appreciate the love!
[/like-gate]