B is for Beg – #atozchallenge
[like-gate ]
Thanks for liking us! Sadie and I really appreciate all the love!
[/like-gate]

This photo shows Sadie doing her version of the classic dog command beg. I decided to teach Sadie to beg because I thought it would make a cute addition to her repertoire of tricks. I had a picture in my head of an adorable cartoon dog quietly holding it's front paws out, sad puppy eyes looking at you imploringly. Unfortunately, so far Sadie's version of beg happens far too quickly and excitedly. Although I use the beg command, Sadie's actions more closely resemble a little kid shouting "Gimme! Gimme!" at someone holding their toy too high to reach. When I say beg she sits up, keeping her butt on the ground, and raises her front paws above her head, trying to reach toward the treat in my hand. It looks adorable when she does it, it's just not exactly what I was trying to get her to do. But Sadie is half Yorkie and it shows in her stubbornness sometimes. I just wish I had used gimme as the command – it feels more appropriate with her actions.
This post is part of the Blogging from A to Z April Challenge.
Check out Slimdoggy's blog hop below to see other great pet blogs participating in the challenge with me!
And today is Wordless Wednesday so check out the BlogPaws Wordless Wednesday blog hop below as well.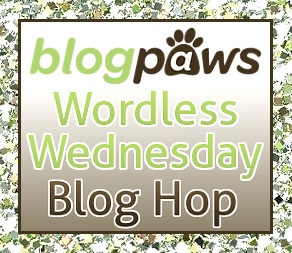 [like-gate ]
Thanks for liking us! Sadie and I really appreciate all the love!
[/like-gate]