Thanks for liking us! Sadie and I really appreciate all the love!


So Sadie is my first puppy, my very first dog ever. I did my research on breeds and training and everything and was mostly prepared when I brought her home. She was a tiny black little fur-ball and I instantly loved her. When I took her to the vet for the first time, the vet said she had a minor skin condition caused by interaction with chickens on the farm where she was born. We were able to clear up her skin pretty quickly, but doing so gave my little girl a bad case of dandruff. I brushed her multiple times a day, but her black fur remained stubbornly full of white flakes. I couldn't wait until she could go to the groomer and all the flaky fur could be trimmed away. But since she was such a tiny pup, the vet was taking her time and spacing out Sadie's vaccinations. Sadie was a little over four months old before she finally got all her shots and was allowed to go to the groomer. Being an overprotective mommy, I did all kinds of research again and finally made an appointment with a cage-free groomer that my vet recommended. The day came and the groomer was so nice and accommodating. She gave me a tour of the facility, discussed different haircut options, and assured me that my baby was in good hands. When I left Sadie with her and went outside to wait, I actually had a few tears in my eyes. It was my baby's first haircut and the first time we had ever been separated since I brought her home from the breeder. So a couple of hours later I get the call that she's done and I rush back to the groomer to pick her up. Out comes the groomer carrying this little gray dog and I'm confused. My Sadie is black and tan, not gray. I actually asked the groomer if she was sure that was the correct dog. As soon as Sadie heard my voice, she squirmed out of the groomer's arms and leaped into mine, licking my face like crazy. It's like she knew I needed the reassurance and was saying "Of course it's me, Mommy! I missed you so much!"
This post is part of the BlogPaws #RecipeForMoments blog hop brought to you by Nature's Recipe.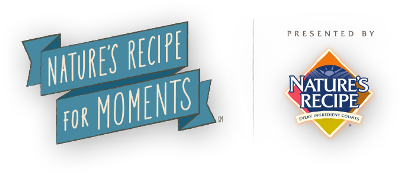 Powered by Linky Tools
Click here to enter your link and view this Linky Tools list…

Thanks for liking us! Sadie and I really appreciate all the love!